Selective focusing makes a big difference! Do you focus on the nearby object and let the background blur or vice versa?  Are you imprisoned watching a ferry in the distance?  Or taking a photo of a ferry through a fence?  Different meanings, right?    
I've been experimenting (OK, playing) with various filters to amplify the mood of photographs. Especially tricky when you're talking about architectural work. Can you really change the mood of a structure by changing the quality or color or luminescence of light?  Well, yes.  Using presets in Silver Efex Pro 2, I tried various filters on an image taken at a small mall in downtown Bainbridge Island, WA to see how the feeling would change.  Results on the left.
The original was pleasing to me with subtle colors and strong geometry. The basic black and white image really began to bring out the strong lines. Next comes the greyer version which conveys strength. Fourth is the blown-out version with its emphasis on the whites and is certainly the most edgy of the five. Finally, the yesteryear version in sepia. 
Each has a purpose. And there are plenty of other variations possible. All depends on the vision and the use planned.  As usual, its important to get the original photograph as good as possible in camera. After that, the potentials are almost limitless.
Adobe Lightroom is my go-to application for photo editing. And the latest version has an amazing AI (artificial intelligence) feature that quickly selects an image's subject or sky with just a single click. It's not always perfect, sometimes including more than it should or not finding a subject at all (even if it appears obvious!!). But generally speaking, it usually does an very accurate selection when working with portraits.  It then allows you to adjust exposure, contrast, highlights, shadows, saturation, vibrancy, etc. for either the subject, or with two more clicks, the background rather than the subject.  
I've been experimenting with environmental portraits (those taken outside of a studio with all types of backgrounds) and turning them into more of a studio version with black backgrounds.  This has been a complicated chore in the past especially when dealing with hair, with its inherent split ends, et al!). Now with several clicks into an inverse mask (technical speak that you really don't need to know!) I can now totally underexpose the background, turning it black, and then moving the black slider all of the way of left to further blacken the background.  And, voilà, the subject pops against the black background.  
You might ask, is this "cheating?"  Not really. I'm not removing items from the image which can be done with other digital techniques but which I generally don't advocate and certainly cannot ethically be done in photojournalism) but merely doing what one used to do it a darkroom by dodging (or underexposing) portions of an image. This would have been very difficult in the past again focusing on very specific elements of a photo like hair. So, I'm OK with it! And if you're not, that's OK too!  
An annual exercise of mine is to review all of my images created during the year and selecting my favorites in no particular order. And then selecting my top two. Obviously, the selections are my personal choices and you may or may not agree that they're my best or even very good by your aesthetic standards! And that's fine. What I hope is that you review YOUR photos from the past year and see where you've come from and where you're headed photographically. 
So, here are my ten favorites of 2021. The first two images are of California's Salton Sea. I'm always enamored with openness and there's nothing much more open, or perhaps even desolate, than this area.  
The second set of images are of the Sonoran Desert here in Arizona. I've become very partial to Saguaros after many decades in the Pacific NW.  And if there's a theme to my photos, its open spaces.
The next four are from our cross-country car trip this past October. Three natural settings and finally a human-made structure in the form of the St. Louis Gateway Arch. I personally love the sunbeam cutting diagonally across the image and the arch.
The final image is of a fighter jet at a local air show this past November. The aircraft's angle and placement within the frame, the gray space, the faint exhaust all denote sheer power and speed.  
So, which two of these favorites are my favorite favorites? Hmm. OK, well, it's challenging to select just two.  But for the sake of my exercise here, I'll go with the sepia Saguaro in the center of the grid (also shown larger in the 11/14/21 blog post below) and the black-and-white Gateway Arch photo. The former because it's my favorite saguaro photo so far in three plus years of living in Tucson. The latter because of the dramatic graphic of the sun ray and the curve of the arch. Not my usual type of image - always good to break the mold from time to time!  
T

here's the all too rare occasion when an image wows us when we're not expecting it. I was recently walking in Saguaro National Park East in Tucson, mid-morning when the light was not obviously great and with "only" my iPhone 11 Pro with me. Creating images wasn't really on my mind. But ... being in the right place at the right time; throwing in some serendipity with sky, silhouettes and shadows; and applying an unusual filter in Lightroom (split tone) resulted in what was for me an image that's now among my very favorites.
Just completed reading an amazing book on the famous photographer of Native Americans, Edward Curtis. The book, "Short Nights of the Shadow Catcher," by Timothy Egan, was so well written and engaging that I finished it off in a time frame reminiscent of fiction books by Gresham and Creighton which is definitely high praise for a non-fiction read. While there is some controversy about some of Curtis' techniques, which are addressed in the book, the single-mindedness of Curtis in documenting a changing way of life and existence is compelling.  Highly recommended!  
After over a year without traveling - we were/are in the same boat, right? - we finally headed to San Diego, La Quinta, and the Salton Sea for a week. While most of the trip was just to reacquaint ourselves with the joys of traveling, it was the Salton Sea that peaked my photo curiosity. On a hot April morning, with temps touching the 100 degree mark, the Sea was every bit as desolate as I expected, and every bit as fascinating. At our first stop along the northeast shore, with the salt-encrusted shoreline, brackish water, and mountains looming to the west, I captured this image. While OK, it certainly did not reflect how I felt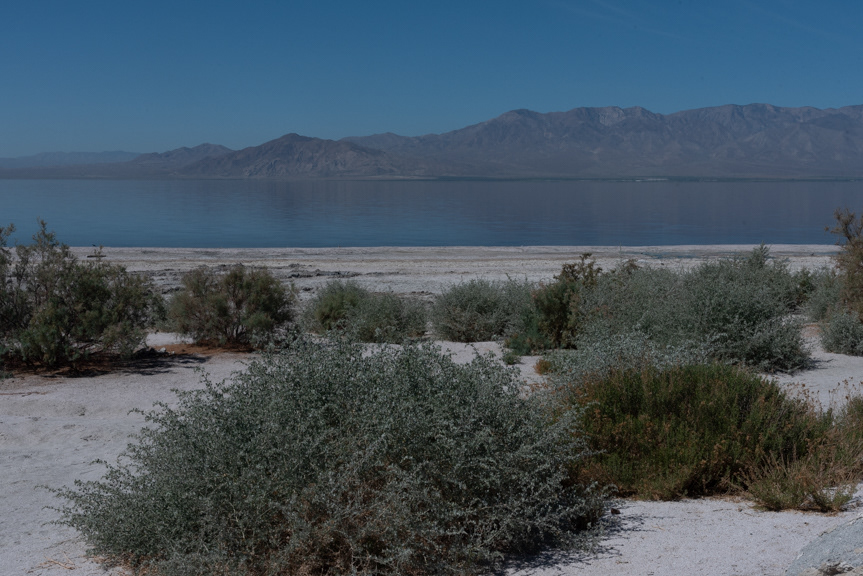 So, when I got home, I applied a filter using Silver Efex Pro 2 to covey the true feel of the place as I perceived it.  A much different sensation, a sense of parchedness, of older times, of heat and desolation. I tend not to use specialized software filters very often, but in this case I knew the I couldn't get across the feeling I had while composing the photo without help later on. The tools of photography are there for a reason: to make the image yours.